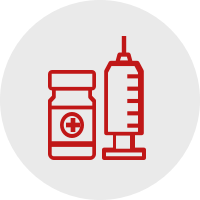 Kroger/CVS Pharmacy Update
IMPORTANT UPDATE TO YOUR PRESCRIPTION DRUG BENEFIT
Preferred Pharmacy Updates
Express Scripts, Inc. ("ESI"), the pharmacy benefit manager that provides retail and online pharmacy network providers and services for The Ohio State University Faculty and Staff Health Plan ("Plan"), has recently notified us of Kroger's intent to end their pharmacy provider agreement with them at the end of 2022. This decision made by Kroger to leave the ESI network means that, starting on January 1, 2023, any prescription that you or a covered family member has filled at a Kroger pharmacy will not be covered under our Plan.
Out of abundant concern for the inconvenience this network change may cause, we have negotiated with ESI to ensure additional opportunities for pharmacy network coverage. Beginning January 1, 2023, ESI will include CVS pharmacies in the preferred pharmacy network tier for our Plan.
This means that, beginning in 2023, any prescription obtained through the Plan at a CVS pharmacy will be covered at the preferred pharmacy benefit level (see https://hr.osu.edu/oe/prescription/ for the Prescription Drug Benefit Comparison Chart).  Any prescription obtained through a Kroger pharmacy will not be covered under the Plan and the out-of-pocket cost will increase as the full cost of the prescription will be the member's responsibility.
What do I need to do if I currently use Kroger Pharmacy?
After January 1, 2023, you can find a new participating preferred pharmacy in the Express Scripts network by going to www.express-scripts.com, login and click on Find a Pharmacy. The pharmacy locator found on the website will contain current network pharmacy information through December 31, 2022. If you need help finding a new pharmacy before then, call Express Scripts at (866) 727-5867. 
Consider using one of Ohio State's conveniently located retail pharmacies at East Hospital, Outpatient Care Dublin and Outpatient Care New Albany. 
After choosing an alternative pharmacy, you need to do one of the following:
Take your prescription bottle to a new pharmacy in the ESI network; they will contact Kroger pharmacy to transfer your prescription, or

Call your new pharmacy and ask them to contact Kroger pharmacy to transfer your prescription, or

Ask your doctor to call your new pharmacy with your prescription information (this may result in a slight delay), or

Take advantage of Express Scripts Home Delivery and have your prescriptions delivered right to your door. Visit www.express-scripts.com to begin receiving up to a 90-day supply of your medication at home or call 1-866-727-5867. This will require a new prescription from your provider, but you may ask Express Scripts to contact them directly to obtain the prescription information.
ESI assures us that they are continuing conversations with Kroger to try to negotiate mutually favorable terms for a new pharmacy provider agreement that will allow them to remain in the ESI network. As we become aware of any changed circumstances in the future, we will keep you informed of any anticipated effect.