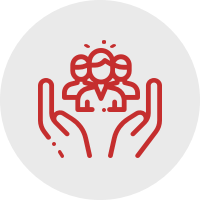 Care Coordination
Dealing with chronic illness?
Let us coordinate your care
When you're living with a chronic condition – such as asthma, diabetes, COPD, or heart disease – day-to-day life can be challenging. Just managing your condition can feel like a full-time job.
That's why the Ohio State University Health Plan offers the Care Coordination Program to members dealing with certain chronic conditions.
Call 614-292-4700 to Get Started with Care Coordination
Learn more about the care coordination through OSU Health Plan

The program is free and provides you with a care coordinator that will help you:
Create an action plan for improving your health and well-being.
Access other health care professionals, such as nurses, health coaches, nutritionists, exercise physiologists, health educators and pharmacists to act as your personal care team.
Save money with the university's Value Based Prescription Drug Plan, which offers reduced copays for certain medications.
Take advantage of other Your Plan For Health (YP4H) programs, such as Biometric Health Screenings, Personal Health Assessment (PHA), and Faculty & Staff Incentive Program.
Program Information
Learn more about specific program details below.

You can learn more about the Health Plan by contacting us. We would love to hear your questions, comments, and suggestions.
Learn More