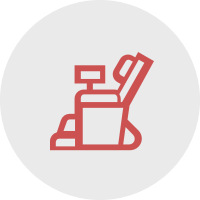 Chair Massage
TREAT YOURSELF
AND YOUR DEPARTMENT TO A MASSAGE
A 10-minute chair massage can do wonders to relieve stress and tension and alleviate neck and shoulder pain. Through the OSU Health Plan, departments can request complimentary, on-site chair massages for benefits-eligible faculty and staff once a year.
Frequently Asked Questions
How many people can participate?
The therapist can be on-site for up to four hours and accommodate 20 people during that time. Larger departments can schedule more than one time per year in order to accommodate everyone.
---
How do we get started?
If you are interested in scheduling a visit from a massage therapist for your department, all you need is a quiet room with at least 8 x 8 feet of unimpeded space for the therapist to work in. Participants will be asked to sign a waiver indicating that they have no medical issues preventing them from utilizing the service.