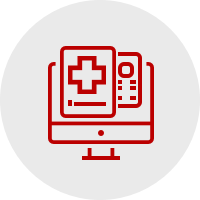 Biometric Health Screening
DO YOU KNOW YOUR NUMBERS?
Getting and staying healthy starts with knowing your body's biometric numbers. Biometric health screenings include height, weight, blood pressure, and other values to measure heart health and blood sugar levels and are complimentary to all OSU benefits-eligible and benefits-enrolled employees.
Biometric Health Screenings are needed to complete your Personal Health & Well-Being Assessment (PHA), the cornerstone of OSU's Your Plan for Health initiative.
You can obtain your biometric health numbers by visiting your primary care provider or by attending a complimentary, on-campus screening. Screenings are non-fasting and held throughout the year.
Schedule Your Screening
To get started with your screening, here is what you need to know:
Benefits eligible faculty and staff, and benefits-enrolled faculty, staff and spouses in the OSU Health Plan should visit Link to Health to choose a date that works best for you.
Click "Biometric Health Screening" to see all open appointment times and locations for that date. If you have questions about how to use the Your Plan for Health scheduling portal, watch this short video tutorial to learn more.
To search for a specific location, go to "Appointment or Class Type" and select "Biometric Health Screening." Go to "Location" and choose your preferred location from the drop-down list and then click on the "Find Appointments or Classes" button. If no appointment times appear at the location you chose, that location is not sponsoring screenings on that date. Once you register, you will receive an email confirming your appointment.
If you need to cancel or change a scheduled appointment, visit Link to Health and click on "Scheduling" or call 614-292-4700 or 800-678-6269. Please commit to the screening appointment you have selected, or cancel as early as possible to ensure appointments are available to others.
The Day of Your Screening:
There are only a few simple requirements for the day of your appointment:
Fasting is not required.
Drink plenty of water and at least one 8-ounce glass of water one hour prior to your appointment.
Bring your photo ID and 8- or 9-digit employee ID number.
Arrive on time. Screening appointments are scheduled back-to-back, and if you arrive more than five minutes late for yours, you may be asked to reschedule.
Allow 20 to 30 minutes for your appointment.
You can learn more about the Health Plan by contacting us. We would love to hear your questions, comments, and suggestions.
Learn More