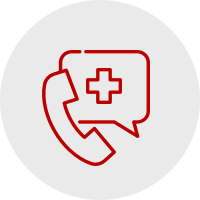 Dedicated Support
PERSONAL SUPPORT TO HELP YOU NAVIGATE YOUR HEALTH BENEFITS. 
OSU Health Plan Dedicated Support is comprised of dedicated customer service specialists who are specifically trained to not only answer your health care benefit questions but help guide you through the complexities of claims, coverages and scheduling.

Discover a different kind of customer support.
We all have questions when it comes to our health and wellness benefits. From deductibles to claims to finding an in-network provider, it can be hard to navigate the details of your plan — especially when you have to speak with multiple departments to resolve the issue.
But not anymore. Dedicated Support is a complimentary service for OSU Health Plan members that connects you with one dedicated customer support navigator who will handle your issue from start to finish. Once you are assigned a navigator, you can contact them directly for any scheduling, billing or network questions and they will take it from there.
When should I use Dedicated Support?
You can contact the Dedicated Support team to:
Find and transition to providers in the Premier Network.
Assistance in scheduling with OSU and Central Ohio Primary Care providers.
Learn about your deductible, plan coverage information and cost of care.
Ready to Connect with Dedicated Support?
Our customer service specialists are ready to help!
Dedicated Support is available Monday through Friday, 7:30 a.m. to 5 p.m.
Have a question, comment or suggestion about Dedicated Support? You can learn more by contacting us. 
Contact Us