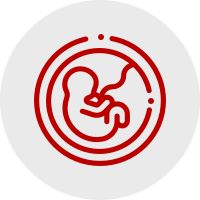 Buckeye Baby Services
THERE ARE MANY REASONS TO BECOME A BUCKEYE BABY PARENT
OSU Health Plan and The Ohio State University Wexner Medical Center are here to assist you throughout pregnancy and after. When you participate in the Buckeye Baby program, you have access to unique services that help you navigate all aspects of your pregnancy and postpartum care. 
Explore the Buckeye Baby services available to expecting and new parents

Online Maternity Pre-Registration
Maternity pre-registration is now available online, click here. 
Help for Complicated Pregnancies
Birthing parents with high-risk pregnancies due to advanced maternal age, diabetes, genetic conditions, a history of premature births and those expecting multiples require extra attention. Through the OSU Health Plan and Buckeye Baby, you have access to excellent high-risk doctors and benefits to help prevent or reduce the incidence of complications. Our nurse case managers will assist in the coordination of your care throughout your pregnancy to ensure you get the care you need.
Breastfeeding Helpline
Call the Breastfeeding Helpline at 614-293-8910 when you have questions or need assistance with nursing your newborn. The lactation specialists at the Maternity Unit at The Ohio State University Wexner Medical Center are ready to help you.
For a list of lactation spaces around the OSU Columbus campus, click here. OSU Health Plan delivering parents have access to the following lactation benefits, up to six lactation consultations covered at 100%.
Breast Pumps
Breast/chestfeeding plays an important role in your newborn's health and well-being. The OSU Health Plan offers a complimentary breast pump to each benefits-enrolled breast/chestfeeding individual with each birth. Pumps can only be ordered in the member's third trimester of pregnancy or after delivery. To learn more about the OSU breast pump ordering process, click here.
Postpartum Home Visit
Buckeye Baby birthing people living in Franklin and contiguous counties will receive a free home visit by a registered nurse shortly after your discharge to make sure your transition to home is going smoothly. The nurse will conduct a clinical check of you and your baby, follow-up on any issues your doctor identified at the time of discharge, and talk with you about any difficulties you may be experiencing adjusting to life's changes.
Pregnancy and Childbirth Classes
Complimentary and confidential pregnancy and postpartum services for those who have OSU Health Plan insurance